Vacation 2002 -- Carpinteria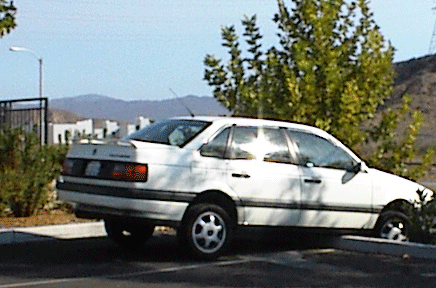 Vacation started with a quick stop by Grace to You to get some tapes for the trip. One of our volunteers had given more gas than brake and went over the curb. He and his car were fine. Always nice to start vacation with some excitement.

We decided to try a camping vacation. We took some visits to nearby campgrounds, and found a nice one in Carpinteria California. Close enough to get home should camping prove to be too much for the family.

When we made our reservations we did not take into account the actual days we would be vacationing. We were out over the 9-11 anniversary.

We arrived early to get a good campsite. The rangers assigned us one near the ocean! Since it was still too early to set up camp, we went to the Santa Barbara Zoo. Very cute zoo, with enclosures that let you get close to the animals.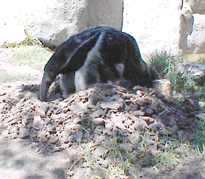 The anteater put on a show for us.
When we arrived our campsite had been taken over by the adjoining campers. The rangers were very accommodating, they were willing to have the other campers move out, or assign us a new campsite. We agreed to get a new campsite. We set up camp, and prepared for a peaceful evening.
Between the trains (every few hours, 50 yards from our heads) and the odd scratching sounds beneath our tent, all was well. The scratching was ground squirrels trying to get under out tent. We played a demented game of whack-a-squirrels most of the night.
Bill woke up with a migraine, and the day went down from there. Kerry took the boys to get Starbucks, while Bill took a head nap.
We once again went to the rangers to get another campsite. We moved accross the road where we got rid of the squirrels, but got the dripping tree.